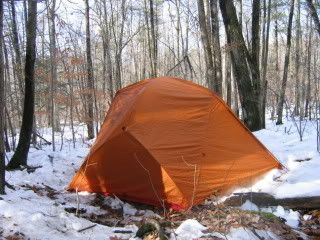 Melissa Mueller used to think winter camping meant gritting her teeth and pushing through the unrelenting cold and discomfort. That was before she got the right gear, and before she started leading expeditions into the Alaskan wilderness. Now living in the Finger Lakes, Mueller sleeps in Cayuga dreamscapes worry-free in the snowy season.
"I consider a warm sleeping bag my most important piece of survival equipment," said Mueller, a senior instructor for NOLS. "It's what made me learn to love winter camping."
The Ithaca Times spoke with Mueller and other local experts to find out how you, too, can stay warm and happy on your next outdoor adventure.
Clothing
Here's what you already know: You need to bring a first-aid kit and plenty of water; wear a hat; and opt for mittens over gloves to keep your fingers warm.
Here's what might be new: A big puffy down jacket is not the best way to keep warm.
You'll be a lot better off if you wear lots of layers instead – at least four – so your body can heat the air trapped between each one.
Your next consideration is material. Cotton is a dangerous choice in a cold climate, where moisture is the enemy. In the same way that sweating cools your body, wet cotton wicks heat away from you, leaving you cold and exposed to the elements.
"Cotton kills," said Dave Hall, founder of Primitive Pursuits, a local outdoor education program that teaches youth and adults how to survive in the wilderness. Hall spends his days outside in frigid temperatures, and sometimes even sleeps inside snow caves without so much as a blanket.
Wool and synthetic fabrics – like polyester and fleece – are considered solid choices for winter wear. They're superior to cotton because they keep you warm even if they get wet.
Comparitively speaking, they repel water and dry quickly.
If four layers sounds expensive, fear not: Primitive Pursuits instructor Tim Drake, a seasoned winter camper, swears it's possible to outfit yourself for under $15 at the Salvation Army.
Moisture is such a nuisance that Hall opts to dress slightly light and stay cool rather than risk perspiration. "Even with good clothing on, like polyester or wool, I've actually had sweat accumulate as ice inside my clothing," Hall said.
Staying dry is an important way to stave off hypothermia, arguably the most serious danger you'll face, Hall said. "Hypothermia is when your body loses its core temperature, and that is incredibly dangerous," Hall said. "We've all had it – we've all shivered and felt our teeth chatter. But if that happens in the woods, and you don't pay attention to yourself and do something about it, the next stage of hypothermia can put you into a place where youre absolutely useless. Your brain goes numb, and you can't make simple decisions any longer."
Hall speaks from experience. He got soaked while kayaking on the Genesee River without adequate clothing. "I went numb and my body got rigid. I was standing there completely useless. Fortunately my buddy was better dressed, and he saw that I was fairly hypothermic. He held my hand and got me dressed," Hall said. "If I had been on my own, I could have been in major trouble. It was really humbling because I realized how fast it could happen and how completely incapable I was."
That's why Hall cautions against ever going it solo.
"Any number of things can happen," Hall said. "Even the most experienced camper can fall into a creek that's been buried by snow."
Hall recommends going out on day hikes before ever venturing out on your first wintertime overnight. It'll give you a chance to get used to monitoring your body temperature, so you know how many layers to pack and whether the boots you just bought are really going to keep your feet warm. Which brings us to the next point: never doubt that good shoes make the difference between an enjoyable experience and a miserable one.
"My theory is that if my feet are warm, I'm happy, but if my feet are cold, I whine," said Mueller. "Most people would be the same."
Mueller says that one of the biggest mistakes people make is buying boots that are too snug, cutting off circulation. "People don't realize that what keeps you warm is blood. Your blood carries heat to your extremities, and if your circulation gets restricted or cut off, you can get frostbite," Mueller said.
Another key consideration is choosing shoes that are truly waterpoof. Despite claims to the contrary, Gore-Tex isn't really sufficient, Mueller said. Those heading out on long-term winter expeditions tend to prefer plastic mountaineering boots, but weekenders will be well-served by neoprene boots, such as the popular Muck Boot brand, Mueller said.
Others, like Drake, swear by pack boots, a style of shoe that includes a removable insulating layer that comes in handy when you're drying off by a campfire, or looking for some extra warmth as you slip your feet into a sleeping bag at night. One popular maker of pack boots is Sorel, a brand that tends to include a platform in the sole, keeping your toes insulated from the cold ground.
Of course, you still have to do some work to stay comfortable, even with the warmest pair of boots and lots of layers, experts said.
"You have to have blood flow. You need to move around well," Drake said.
Sleeping gear
Because heat is a byproduct of metabolism, and metabolism varies from person to person, there's no one-size-fits-all gear for the winter months.
"You may have to learn through trial and error," Mueller said. "If you tend to sleep cold — which I do and a lot of women do — then you're going to want a warmer sleeping bag than somebody else.
"My experience has been that the ratings are fairly accurate for someone with a higher metabolism. They're based on research, but it's all done on men. So for me, I know that I'm 30 degrees different from whoever they did the reasearch on. So if it's going to be below freezing, I need a zero-degree sleeping bag," Mueller said.
While sleeping pads might sound like a luxury, the two-inch thick inflatable mattresses sold at outdoor stores are not just a matter of glossing over the rough spots beneath your night spot.
"They're very critical in the sense that you lose most of your body heat through conduction, through interfacing with the ground," Drake said. "You have to get off the ground, because no matter how good your sleeping bag is, you'll freeze to death just laying out."
Tents
"You need a tent that won't collapse under the weight of freshly fallen snow. It doesn't have to be an expensive tent, but I would recommend setting it up before you head out into the woods," Drake said. "I once got a military-style tent for Christmas, which was just basically two pieces of canvas that button together, and I thought it was so cool, because I liked the minimalist piece. My friend and I each took a half and hiked it out, snowshoed deep into the woods, and when we got there and set it up, it turned out there was no bottom to it. It was just two sides! We spent a long time trying to figure out what to do. In the end we had to build a bottom. We used our firewood, and my coat as a sleeping pad."
Mueller suggests buying tents by brand reputation. The best, she said, are Sierra Designs, Mountain Hardware and Moss.
Precautions
Ithaca's many frozen falls can be breathtaking, but New York State Park Police Sgt. Edwin Gonzalez says winter hikers need to fight off temptation and heed signs that prohibit hiking in the gorges.
"We've had deaths in the gorges due to people falling in icy conditions," Gonzalez said.
Constant freezing and thawing can loosen rock along the sides, making even standing near the falls a major hazard. Falling rock crushed a woman at Taughannock Falls State Park in 2005.
Gonzalez stressed that those who trespass are risking more than just their own lives. "Rescuers can get hurt going into save people," Gonzalez said.
A volunteer fireman for the city of Ithaca who was also full-time public safety office at Ithaca College died in 1986 while trying to rescue college students who fell into Buttermilk Falls, Gonzalez said. "One of the students drowned, and so did he."
Gonzalez said the Park Police take this issue so seriously that they're willing to write tickets and make arrests. This year alone, more than 10 people have seen the slammer over it, Gonzalez said.
If you need help in an emergency, call the New York State Parks Police at 800-255-3577.
""""""
All about Camping in Tompkins County
Hiking is allowed anywhere along the Finger Lakes Trail, and camping is always OK in designated sites as listed on the maps. The rest of the rules vary from location to location.
Buttermilk Falls: Camping is prohibited except in the lean-to on Lake Treman. Hiking is prohibited at the gorge but allowed along the Rim Trail, Bear Trail, Larch Meadow Trail, and any path that connects to the Finger Lakes Trail, Park Manager John Guilford said.
Robert H. Treman State Park: Camping is prohibited except in the lean-to. Hiking is allowed along the Rim Trail but the cliff stairway is closed, so there's no loop. Guilford said to hike either from the bottom up or the top down.
Taughanock Falls State Park: No camping. Hiking is allowed on the gorge trail year-round, unless there's high water or really bad ice. The Rim Trail is closed, according to Park Manager Paul Thorington.
State Forests: Hiking and back-country camping are allowed except in designated wildlife-management areas, according to the Web site for the state Department of Environmental Conservation.
Private property: Fifty percent of the Finger Lakes Trail runs on private property that owners have gifted to the trail conference, said Gene Bavis, executive director of the Finger Lakes Trail Conference. Out of respect for land owners, the FLTC discourages camping on private land except in designated sites as listed on the organization's official maps.
"""""""`
Want to go camping?
There are a number of outdoors organizations in the area. Here are a few:
Cayuga Trails Club offers guided hikes for free to the general public and helps organize trips for paying members. The organization also maintains a 70-mile stretch of the Finger Lakes Trail and publishes a guide book called "Guided Trails In the Finger Lakes Region," available at local bookstores and outdoor shops. For more information, go online to http://www.cayugatrailsclub.org.
Finger Lakes Trail Conference offers organized hiking events as well as GPS maps of the trails. Find information about both online at
http://www.FingerLakesTrail.org.
Primitive Pursuits offers custom guided adventures and survival training workshops. The group also has youth and wilderness awareness programs. Find out more at http://www.primitivepursuits.net or by calling 272-2292.
Cornell Outdoor Education offers wilderness training and gear rentals. For other winter activities offered by COE, including cross-country skiing and snowshoeing, visit http://www.coe.cornell.edu.